Every Quilt Tells a Story. Your Story.
CUSTOM QUILTS & LONG ARM SEWING SERVICES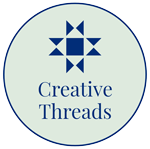 Creative Threads is a home-based business founded on a love of fabric, thread, and the sound of a sewing machine coming to life. I love doing a variety of projects and stand ready to meet your specific quilting and sewing needs. Contact me for a free consultation on your project.
I look forward to hearing from you!
Memory Quilts
Clothing from a Loved One Honors their Memory
When my father died, my daughter requested his shirts and together we created several quilts that have become treasured and comforting reminders of him. I understand the importance of these items and would love to create a quilt for you and your family which honors the memory of your loved one.
Wedding Quilts
A Wedding Gift as unique as the couple
Wedding quilts make a treasured gift that can last a lifetime. This pattern has been a favorite of mine to gift for weddings. It can be made in a variety of sizes. I can help you choose the size and colors for your quilt to create a unique gift for a unique couple.
T Shirt Quilts
Let the memories bring Joy and Comfort
Upcycle your t-shirt collection and let the memories live on, bringing warmth and joy to every day.
We can make a quilt anywhere from 6-50 shirts. Each shirt is professionally trimmed, stabilized, and then sewn together before quilting. A border and backing can be selected to match a theme or interest. Upon request, a name or message can be quilted into a corner at no extra charge.
Long Arm Services
Making Your Quilt what You Dreamed it to be
I offer edge-to-edge long arm quilting for your finished quilt tops. I work with you and give the love and care to finish your project just as you had dreamed it would turn out. Fees are based on the size of the quilt and the density of the quilting pattern.
All long arm sewing is hand-controlled. This allows free-motion quilting around features such as pockets or rhinestones.
Celebration Quilts
Custom Quilts for Special Occasions
Quilts are wonderful gifts for celebrations. Whether it's table runners, wall hangings, signature quilts, quilts for new babies, or a special anniversary, contact me to discuss your needs and ideas.